AEG (Agency Tribal DDB)
About: 
Launching the new full-automatic oven, AEG wanted to build a digital add-on that supports customers in the kitchen.
4 months
Lead Product Designer & Product Manager (Freelance)
Team Size:
3 Designers
1 PM
iOS & Android

Challenge
Build a digital manual, that inspires for every-day use 
The AutoSense Oven is a premium oven for people who appreciate high-class cuisine in their home kitchen without many efforts by automating most of the cooking actions.

Me and my team was supposed to design an iPad app that explains the functions of the coven while cooking and provide smart assistance in order to maximize convenience. 
solution
transfer the product experience into app
The interactive jog-dial is the main navigation in the oven. We reused this for the app navigation in order let the customer intuitively learn how to use oven.
The entry point in the app is suitable for being inspired for the the next cooking session or bringing them to concrete instruction during cooking.
Start view
Select a category by using the jog dial navigation.


Category overview

Easily swipe through recipes and tips. Bookmark interesting stuff on the go.
Recipe details
Customize your recipes, swipe through the step by step instructions and share personal shopping lists.

Useflows and Wireframes
The flat hierarchy allows the user to quickly switch between cooking inspirations and step-by-step instructions.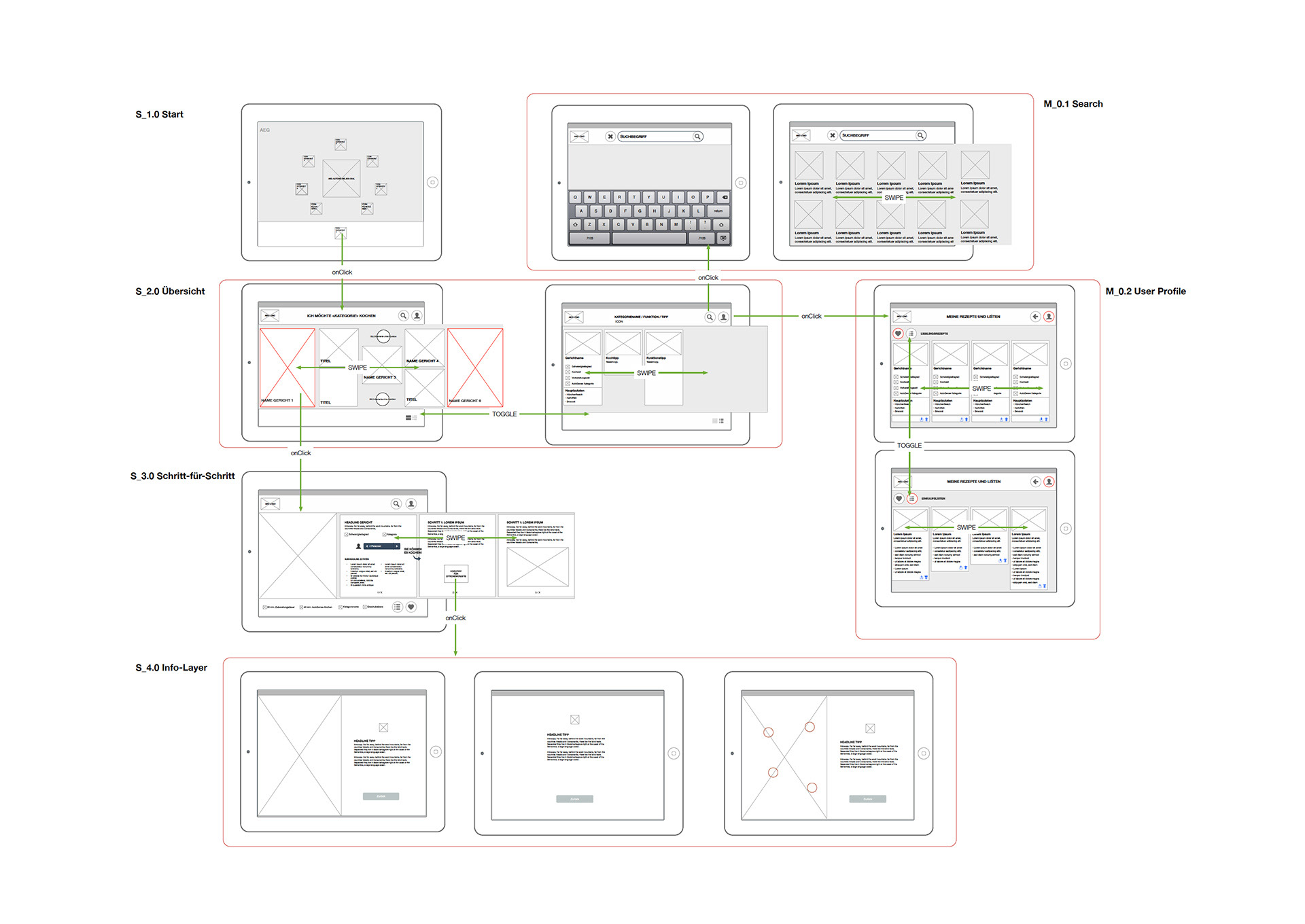 Implementation
Component libary
The cooking app was the digital pilot for AEG to provide a tool in combination with a cooking device. In order to align this with further initiatives we specified the design requirements and developed a component libary.
I set up a lean roadmap and workflow in close collaboration with the other PM in order to reduce the production time. Four months after the kickoff was the launch in the app store.